One of our favorite parts of the wedding attire planning is finding all the fabulous accessories for your big day! From veils and hair combs for the bride, to jewelry options for maids and moms, we love it all.
So imagine our excitement when we got the opportunity to join with Alta Moda Bridal to welcome Meg Jewelry to Utah for a fabulous bridal style event. Designer Meg Lammers will be in-store with both the Alta Moda and Lily & Iris consultants, ready to help bedazzle and bejewel you and your lovely ladies for the big day. Whether you're looking for a veil, a necklace, bracelets, or earrings, we'll have them all! From simple to ornate, crystal to pearl, we'll have options to match your perfect vision.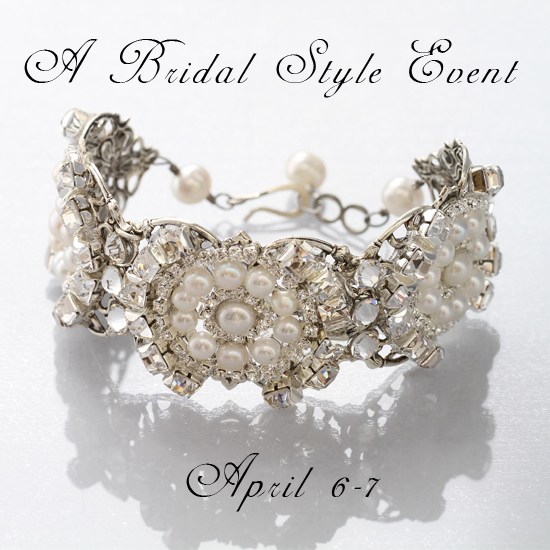 What:
A Bridal Style Event with Meg Jewelry
Where:
Alta Moda Bridal, 637 East 500 South, SLC
When:
April 6-7
This will be a weekend devoted to accessories. We'll be here to personally help you coordinate and customize any and all wedding-day jewels, veils, accents, shoes, etc. There will also be a hearty selection of  accessories perfect for bridesmaids, mothers of the occasion, honeymoon attire, and day-to-day enjoyment.
Meg Jewelry, along with the designer Meg Lammers, will be traveling out to Utah with their full collection of hand-crafted wedding, special occasion, and ready-to-wear accessories.
Personal appointments are available on Friday and Saturday, OR (and this is the fun part) gather your friends and join us for an open house of Cake & Cocktails on Friday April 6th from 4:00 pm – 7:00 pm. Give us a call with questions, to book your appointment, or to RSVP for the open house.
We can't wait to see you!