We're so excited about the news we get to share with you today!
Remember how much we love Culinary Crafts? (If not, check back to our post about the amazing coconut shrimp and mango spring rolls they provided for our party last week…) Well, the best of the best are at it again! Mary Homer-Crafts, mastermind behind this amazing company, and her stellar team are opening a brand new venue in downtown Salt Lake City.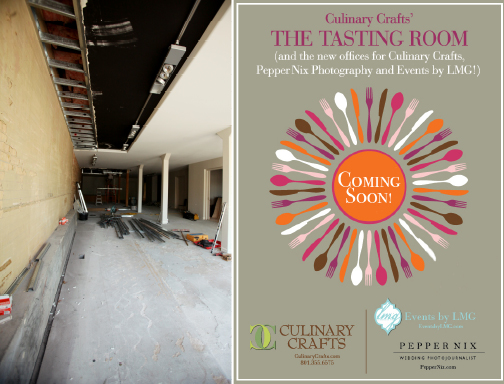 Not only will The Tasting Room be the new SLC offices for Culinary Crafts, they'll be joined by Events by LMG, and Pepper Nix Photography, two powerhouses in the Utah wedding industry that we are so lucky to be able to call friends. (Trust us, these ladies are fantastic.)
We don't have many details yet (we're anxiously awaiting the grand opening in a few weeks!), but we'll be sure to share as we hear more! It's bound to be fabulous, with these names involved.