Many women with a wedding in their future set a goal for themselves of taking off a few pounds—generally, whether they need it or not!
But what about those ladies who are planning to GAIN weight before the big day? That's right, we're talking about bridesmaids with a baby on the way! Having a bridesmaid in some stage of pregnancy is a common-enough occurrence, but perhaps one that isn't thought of often.
While being pregnant or having a brand new baby may present some limitations when it comes to bridesmaid styles, it certainly doesn't mean that you can't still have a fabulously chic–and happy!–bridal line. Many top designers offer maternity styles, or custom changes to certain styles to accommodate the growing baby bump.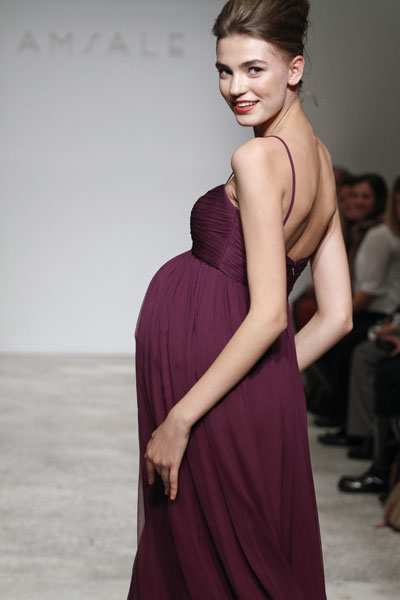 The first thing you'll want to find out is about how far along your bridesmaid will be when dresses need to be order, and how close to her due date she'll be on the wedding day. If she'll only be four to five months pregnant on the Big Day, you may not have much to worry about. However, if she'll be very near to her delivery date on the big day, you will want to make sure to select a style and size that will ensure she is as comfortable as possible.
(Tip: Always make sure that your bridal attire consultant is aware of the pregnancy and can help you plan accordingly.)
An easy way to limit complications when choosing a dress is to find something that will work for both your expecting bridesmaid and for each of your other girls as well. With the rising trend of mis-matched but complementary bridesmaid dresses, this is easier than ever. You, the bride, can choose a fabric and color, and let your girls choose the dress that best fits them!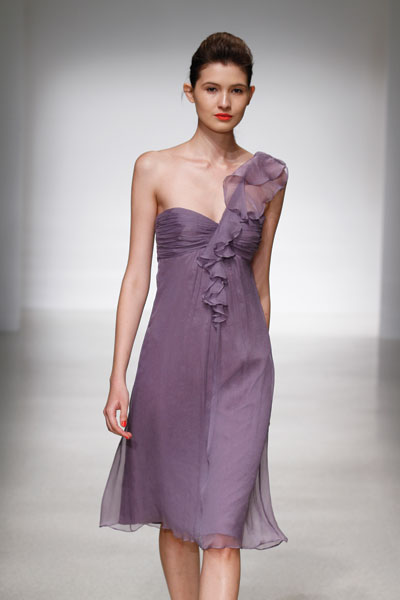 So, what are the best styles for an expecting bridesmaid? Many lines offer stylish and comfortable maternity options that allow for extra room and growth in the belly area, usually with an empire waist that sits above the natural waist. Flowing chiffon gowns are a favorite for expectant 'maids, and our favorite
twist dress
is a popular option as well.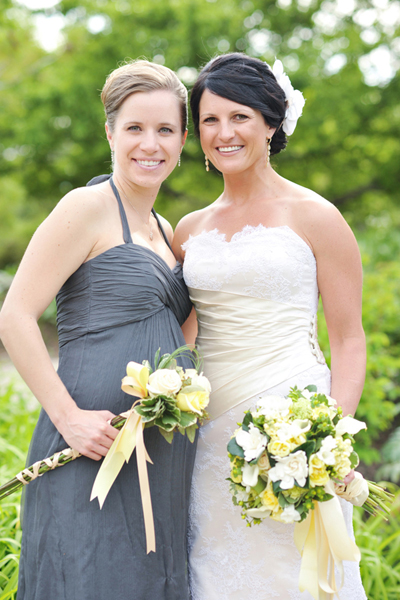 Above all, just make sure to find a style that both you (the bride) and she (the bridesmaid) can be happy and comfortable with!
Photo credit:
1 + 2) Amsale
3) Rebekah Westover Photography