Believe it or not, it's now officially December and all the excuses to put off holiday shopping are no more. Thanksgiving is past, it's no longer "still November," and Christmas is in barely more than three weeks.
Here at Lily & Iris we are totally in the mood. Not only is our sample sale this weekend (perfect for last minute holiday dresses, ladies!), but we're prepping for our annual holiday party, and scheming on some new window decorations to celebrate the season.
So we thought we'd spread the holiday merriment to the blog, and share some of our favorite gift ideas over the next couple of weeks.
Starting with this lovely piece today: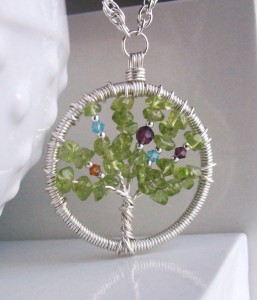 The perfect simple gift for mom or grandma, this family tree necklace is wrapped with either silver or gold wire, and includes individual birthstones on the branches for each family member. Such a cute, classy way to show that special family member you care.
Available on Etsy, this piece is custom-made, so order soon for Christmas delivery.