Many girls have never been bridesmaid dress shopping before. Even if you've been in a wedding before, chances are you might not have been involved too closely in the whole process. So, we put together a few quick points about what to expect the first time you visit the shop.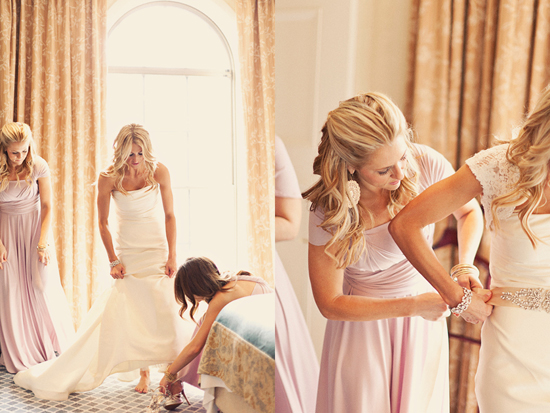 1) How much time should I allot for my first appointment?
For your first visit, expect to spend about 45 minutes to an hour looking through and trying on dresses. This is plenty of time to see our stock, choose a handful to try on, and narrow it down to a few favorites, and then choose The One(s)!
2) What options are available in your dresses? 
The dresses we have here in the shop are available in a wide variety of colors and sizes, from blush to hot pink, and sizes from 0 through 30. Even if our sample dress isn't the exact color or size you and your ladies need, we have stacks of swatch books and plenty of size charts to help us custom order your girls' dresses. Some of our dresses even come with the option to swap out certain details, or allow custom changes. Whatever your needs, we can find something for you!
3) When should I order my dresses?
We recommend that you start looking for your bridesmaid dresses at least six to eight months before your wedding. Though we can often get them faster, it often takes about three months from the time your order is submitted with the designer to when we have the dress in the shop. And that three months doesn't even account for time to choose the styles, get all your girls measured, and have alterations done when the dresses arrive. Trust us, the more time you give yourself (and your girls) the happier you'll be!
4) I've chosen my dress(es). What happens now?
Once we've received all the relevant information from each bridesmaid and confirmed the order with you, we'll submit the order to the designer. The designer then processes the order, cuts the fabric for your dress(es) and assembles them. Once the dresses are ready, they ship them off to us here at Lily & Iris, where we carefully hand-press each dress, label them with your bridesmaids' names, and then give you a call! From there, your girls can arrange to have alterations done by any seamstress of your choice. Not sure who to use? Ask us! We work with several amazing seamstresses in Salt Lake and the surrounding area, and are always happy to pass their information along to you.
Above all, we want the bridesmaid experience to be a happy and stress-free part of the wedding planning, both for you and your bridesmaids (and your mom and wedding planner!). If you have any questions or concerns throughout the process, don't hesitate to ask one of our friendly consultants. If she doesn't know the answer (and she probably does) she'll find it for you!
Give us a call at 801-413-3233 and get ready to cross this off your to-do list!
(repost)
photo by Alixann Loosle