Exciting news ladies! For the next couple of weeks, you'll have an unprecedented opportunity at Lily & Iris!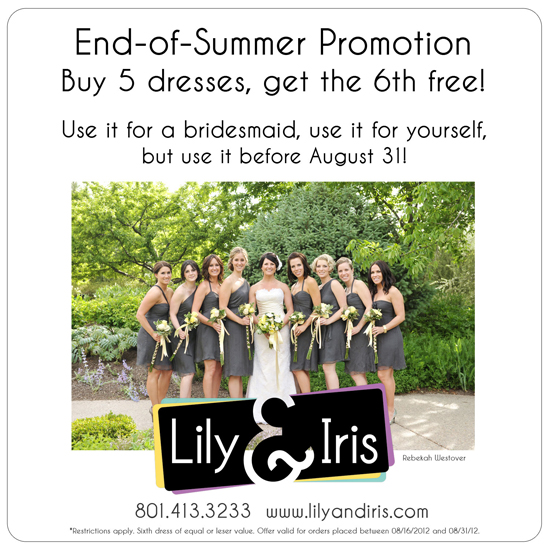 That's right lovely ladies, for the next two weeks when you buy five dresses from Lily & Iris, you'll get a sixth dress for FREE.
You can use this dress credit for one of your bridesmaids, or yourself, or even mom, but you only have a couple of weeks to do it! August 31 is the very last day to take advantage of this opportunity and get your dresses ordered.
How do you use this for your bridesmaids, you ask? A couple of ways: one lucky girl (perhaps your MOH?) gets a free dress! Yippee! OR, we can discount the price of all your girls' dresses, equal to the value of the sixth dress. Easy! Or maybe you only have five bridesmaids, but there is that cute little white number you've been coveting? Use the dress credit for yourself. Perfect!
Call us at 801.413.3233 with questions, or to set up your appointment! We can't wait to see you!
The fine print:
Dress credit must be used immediately (can't be saved for later, sorry ladies)
Sixth dress must be equal or lesser value (least expensive dress will be credited)
Credit cannot be applied to previous orders (offer valid for orders placed 08/16/12 through 08/31/12)